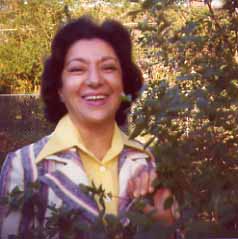 Dr. Nasrine Adibe
1918-2006
Nasrine Adibe, internationally renowned science educator and Professor Emeritus at C. W. Post Center, Long Island University, died on Friday, September 22, 2006 from complications of pneumonia. This website is dedicated to a celebration of her life.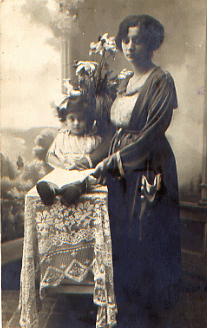 Nasrine with her mother in Istanbul
| | |
| --- | --- |
| Dr. Adibe lived a full and exotic life. She was born in 1918 to an elite family in Istanbul, Turkey, during the last years of the Ottoman era. Her father, Fathullah Ali Adibe, a Syrian, was legal advisor to Parliament, and her mother, Zehra Yamulki, was the daughter of Mustapha Pasha Yamulki, a high ranking general and hero of the Ottoman victory at Gallipoli. When she was very young, Dr. Adibe's family had to flee Turkey when Kamal Ataturk established the Turkish Republic. Her grandfather became a prominent Kurdish nationalist in Suleymania, Iraq. Her father returned to his native Syria, where he served as a judge. She lived in Aleppo (Syria) for much of her childhood. | |
| | | |
| --- | --- | --- |
| Mustapha Pasha Yamulki | Fathullah Ali Adibe | Zehra Yamulki |
(top) Izzet Bey, Neziha, Nessima, Nasrine
(bottom) Zehra, Meliha, Bessim, Safia Hanem

Nasrine
| | |
| --- | --- |
| Nasrine attended boarding school and Beirut College for Women in Beirut and graduated from the American University of Beirut (Lebanon) in 1940, at a time when only 40 women were enrolled at the university. | Nasrine (bottom row, second from right) |
| | |
| --- | --- |
| Immediately after her graduation, she became the first woman to teach at the College of Pharmacy in Baghdad, Iraq. | In 1944 Dr. Adibe married the late H.E. Abd Al-Rahman Omar Adra, Ambassador and Dean of the Lebanese Diplomatic Corps until he retired in 1975. They divorced in 1948. |
| | |
| --- | --- |
| In 1946 her daughter Najwa was born | Najwa, Zehra, Nasrine |
| | |
| | |
| --- | --- |
| In 1950, she received a UNESCO scholarship to study at the University of Michigan and received her MA in Education in 1951. On her return to Baghdad in 1951, she introduced innovative methods of science instruction including science fairs and the use of everyday materials in science experiments. | |
| | |
| --- | --- |
| | From 1954-1958, Dr. Adibe served as UNESCO Technical Assistance Expert in the newly independent Kingdom of Libya, where she designed the K-12 science curriculum that remained in use in Libya for two decades. Her program in science education was the first of its kind in the Middle East. |
| | |
| --- | --- |
| | In 1958, she married the late Dr. Virgil Alfred Clift, Professor Emeritus, New York University and associate editor of the Encyclopedia of Black America. She came to Baltimore with Dr. Clift, who was then Chair of the Department of Education, Morgan State College (now University). |
| They moved to Westbury, Long Island in 1963 when he became the first African-American to teach at NYU's School of Education. They divorced in 1967. | |
| | |
| --- | --- |
| Science Experiments | In her 21 years at C. W. Post College of Long Island University, where she taught science education and directed the Program in Science Education, Dr. Adibe taught teachers how to bring science to life at all levels, from K-12. She emphasized hands-on learning and encouraged critical thinking skills through experiments with toys, balloons and pennies. She was dedicated to making science instruction accessible to all, especially to women. To this end, she developed several courses designed to facilitate science learning. |
She received her doctorate in education (Ed.D.) from Teachers College, Columbia University, in 1971.

Nasrine with Jean Piaget,
the subject of her doctoral thesis
Dr. Adibe's enthusiasm for learning extended to her tireless participation in professional organizations. She was often invited to lecture on science instruction and on women's education; she organized conferences and regularly presented papers and workshops. She was most active in the National Science Teachers Association (NSTA), the Association for Supervision and Curriculum Development (ASCD), the Association for the Education of Teachers in Science (AETS), World Education Fellowship (WEF), the Society for Educational Reconstruction as well as local educational organizations. She served as President of the United States Chapter of WEF for six years. In 1986, she was elected Director of the Northeast Region of AETS, and in 1998, she received the AETS award for Outstanding Honorary Emeritus Membership. In 1990, she was given a special award from the Long Island Principal's Center for high quality in science education.
She has served on the boards of her two alumni associations: Lebanese American University, where she spent her first two years of college (at the time it was called the Beirut College for Women), and the American University of Beirut (AUB). In 1954, she was a delegate from Iraq to an AUB Alumni Conference held in Beirut.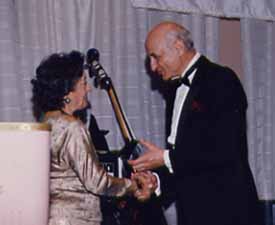 In 1993, she was the first woman to be honored by the New York Metropolitan Chapter of AUB's Alumni Association at its annual dinner.
AUB Distinguished Alumni Award Ceremony, 1993
Waldorf Astoria Hotel, New York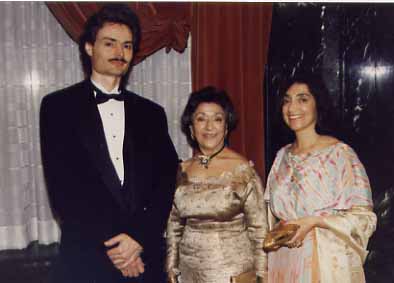 Dan, Nasrine and Najwa at the award ceremony
Nasrine with her grandson, Jihan,
who was born in 1985
| | |
| --- | --- |
| Nasrine was an accomplished ballroom dancer, who competed at major ballroom dancing events even into her 80s. She was a talented dress designer, with extraordinary couture pieces in her wardrobe. | Nasrine with Mark James, 1993 |
| | |
| --- | --- |
| Nasrine Adibe was a gracious, welcoming hostess. Colleagues, students, friends, relatives, newcomers have all experienced her warm hospitality. At times gatherings in her home evoked the salons she visited in Paris with her grandmother during her youth; at other times, they were light-hearted dance parties. | |
| | |
| | |
| --- | --- |
| | Her lasting image is that of a dignified, commanding presence, exquisitely dressed, and full of fun. |
Dr. Adibe is survived by her daughter, Najwa Adra, grandson, Jihan Daniel Varisco, son-in-law, Daniel Martin Varisco, two sisters, Naziha Adibe and Nesima Adibe Batayneh, a brother, Muhsin Adib, and numerous loving cousins, nieces and nephews.

Virgil, Nasrine, Neziha, Mehdi

Nasrine (right) with her favorite aunt and friend,
Meliha Hakim

Fayha Hakim, Neziha Adibe, Nessima Batayneh, Nasrine Adibe
Selim Hakim (seated), 1994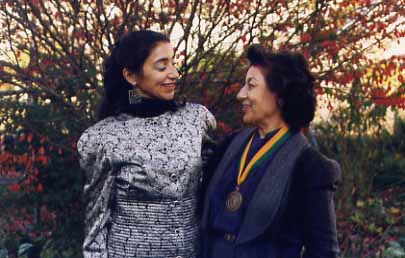 Najwa and Nasrine

A scholarship fund has been set up in Nasrine's memory.
If you wish to make a donation
(and please do not feel you have to do so)
please send it to:
The Nasrine Adibe Scholarship Fund
Attn: Sujatha Vempaty
American University of Beirut
3 Dag Hammarskjold Plaza, 8th Floor
New York, NY 10017-2303